Expertise Areas
Social networking
Caregiving is social group activity. Collaboration within a group of caregivers is key. Collaboration can be a challenge. ConnectedCare builds on social networking theories to support day-to-day caregiving through digital and non-digital tools. Our goal is to boost bottom-up collaboration through inviting and non-intrusive cues.
Sensor-based awareness
Technological innovations in the field of sensors, big data, digital communication and mobile devices offers many opportunities to support day-to-day caregiving. For example, with smart sensors, caregivers can be up to date of the actual care needs of a patient. We recognize the value of technology, and we want to make sure technology facilitates human-human collaboration.
Persuasive service design
The use of digital tools and services is ubiquitous. Digital solutions are for example used to advocate healthy life style, distribute care tasks, and increase home safety. Success generally depends on how much the end users are willing and able to contribute to shared goals and adapt their living routines. Through persuasive design techniques we help our end users achieve their goals and self-manage their life.
Digital interaction design and beyond
Today's health and collaboration solutions are generally internet- and app-based. Research shows that many seniors and caregivers can better be served and engaged using a wider range of communication channels. We not only develop digital solutions that engage and invite, but also we explore the use of new communication channels such as print media (sending postcards to users who do not want to use a computer), and even social robotics to enable interaction outside the traditional computer screen.
Research platform for digital care collaboration
In R&D projects we build on the existing ConnectedCare digital care collaboration platform. ConnectedCare combines social networking, sensor-based awareness, persuasive service design and multichannel communication. We collaborate closely with academia, research institutes, industry partners and end users to build new knowledge and to build applications.
HALLOZORG
The HalloZorg platform, developed by ConnectedCare, is a digital care collaboration platform. HalloZorg combines social networking, sensor-based awareness and persuasive service design. In our R&D projects, we collaborate closely with academia, research institutes, industry partners and end users to build new knowledge and to build applications.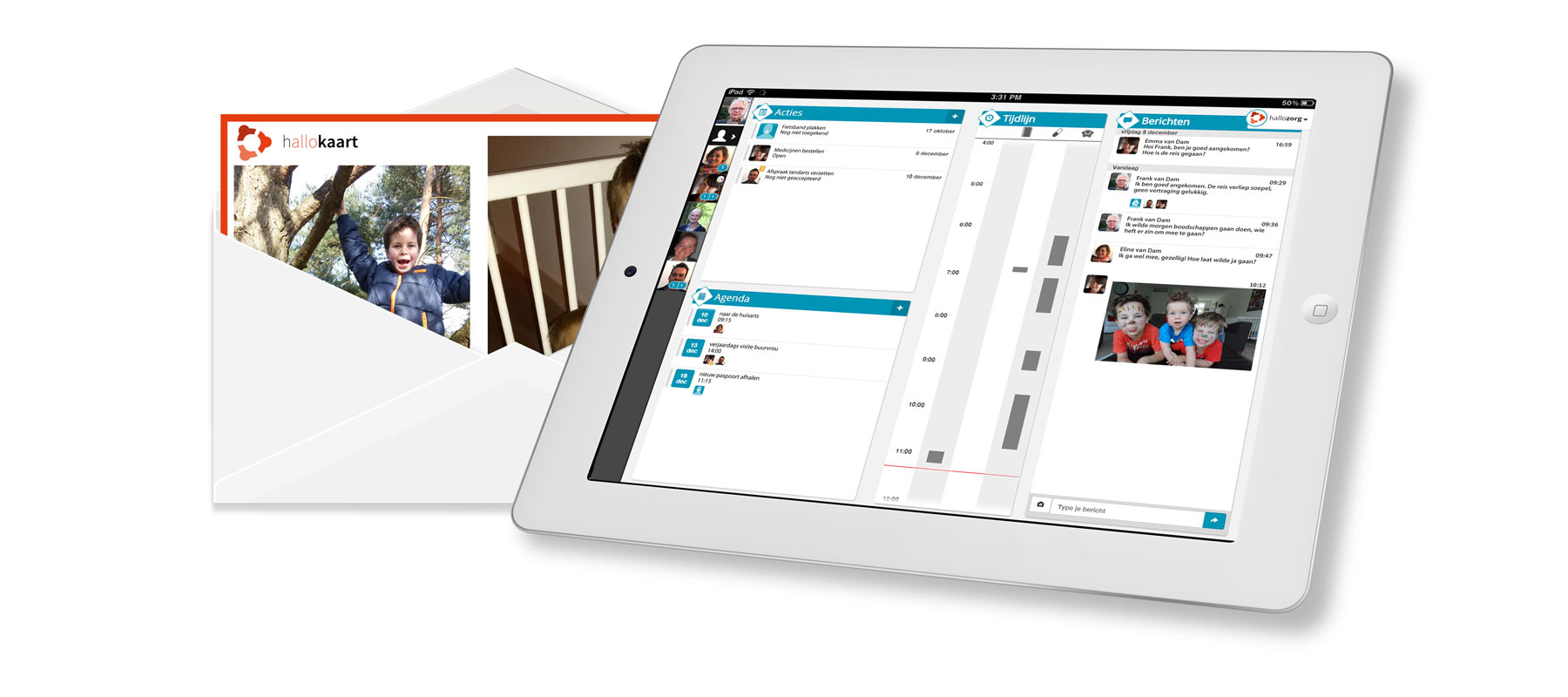 USER RESEARCH
We include all relevant users in all stages of our design process. Using different techniques, we start by understanding their needs and wishes. During the development, we engage them in several prototype tests to make sure we are still on the right track.
DESIGN
The products we develop are all just a part of the whole healthcare service delivery. In order to have our products fit perfectly, we aim to understand and design the whole process first, before diving into the details. We do not stop at the design of the service. Each touchpoint in the service is developed in detail through participatory design. 
SOFTWARE DEVELOPMENT
ConnectedCare transform wireframes, designs into prototypes and real product service systems. By combining new technologies such as sensors we are able to create the needed user experience.
BUSINESS DEVELOPMENT
The healthcare domain can be a tricky place to introduce new concepts. We have the experience to develop a healthy business case and take them to market.
PROJECT MANAGEMENT
ConnectedCare has years of experience in managing several projects. We believe that project management is best succeeded by combining the right resources in order to realise a great product.